10ft Wide & Oversized Tiny House Trailers
---
10ft Wide Tiny House Trailers can be built in any length from 10ft to 48ft long and even in a gooseneck configuration. Oversized Tiny House Trailers have special custom 10ft wide axles so your fenders will still be on the side of the trailer deck for better road manners. Permits for transporting 10ft wide trailers ranges from $14-$30 per state and the permit process is easy to do. 10ft wide Tiny House Trailers are available in all weight ratings.
Up to 12ft Wide Decks

You can choose the width you want your Tiny House Trailer deck, from 10ft wide to 12ft wide. All Oversized Widths will have 10ft Wide Axles.

Maximize Your Living Space

Our 10ft and 12ft wide trailers outsell the standard 8ft 6in models by 5 to 1. This floor plan width allow living tiny more practical for the long term.

Lifetime Consulting Included

We are here for you whenever you need us. As tiny house dwellers and builders for close to a decade our goal is to simplify the process of going tiny. If you ever need to ask advice, seek recommendations on building practices or products. We are here for you.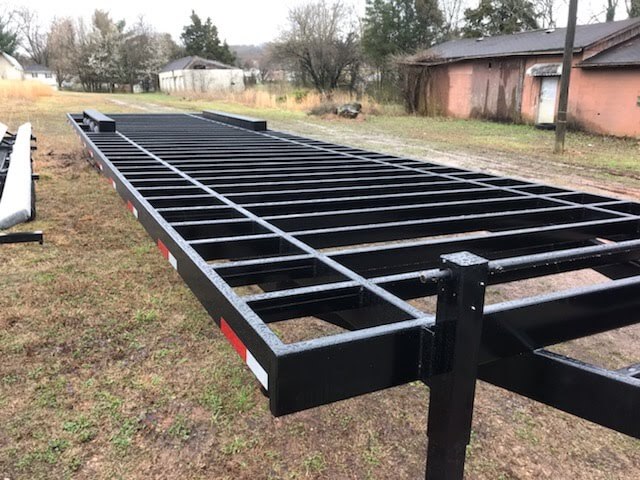 Have the crossmember placed flush with the top of the deck to save vertical height by insulating inside the trailer and using it as your subfloor. This method also saves weight, time and money.
Extend your trailer tongue by 12″ for increased room for Propane tanks, A/C System and exterior storage.

1/2in Welded Rods to ties down your wall framing to the trailer. The default location is 10in from each corner, 10in before and after the fenders and 48in in the field. Have a custom location? No problem we can place them exactly where you want them
Gain 4in of interior height by getting 4in drop axles on your trailer.

Choose a deckover style for a single level floor plan. no need to build around wheels and you have the freedom to place your doors and windows anywhere in your floor plan. Deckovers our the most popular choice for 10ft and 12ft wide models
You can choose any width you want. 10ft 6in, 11ft 2in, 11ft 10in. Whatever fits your floor plan.

Get a custom bumpout on the front of the trailer to increase your living area or use it for a exterior storage shed
Our Steel Flashing is Welded And Painted To Match The Trailer. This Option Will Speed up your build by having the support for the insulation already installed